Dear Lee,
I am one of your subscribers to your e-book. Great info and my new painting business is doing well thanks to you.
Dave Kovacs, Loudon TN
Hello Lee,
I purchased your "How to Paint Like a Pro" course years ago along with your Bonus "How to Repair Drywall like a Pro". I am now grossing over $250K $500k a year (updated). I credit your course with my success in getting started. Thank you,
Richard Nelson | Estimator | Project Manager
One Man and A Brush Pro-Painters http://www.OneManandABrush.com
– Richard Nelson, One Man and A Brush Pro-Painters
Never Eat a Paint Job Again!
From the desk of Lee Cusano
Dear Fellow Painting Business Owner,
Are you just starting your new painting business and need estimating or bidding knowledge for all your interior, exterior, commercial and residential painting projects?
Man who doesn't! I ate quite a few jobs in the early years due to not having any kind of estimating system in place. I left a lot of money on the table due to not having a way to calculate my paint jobs with any kind of precision.
Today I can bid residential and commercial work with confidence. It doesn't matter whether it's interior or exterior work. My system works like a charm for all types of ceilings, doors, walls and trim — accurately and profitably every single time.
It works for decks, porches, siding, front entries, you name it, it's in the manual. With my estimating system you can do jobs like these below with ease and confidence.
Painting Jobs Like . . .
Touch up work in a condo in 9 hours for $400
Power-wash a deck and re-stain it in 7 days for $1,500
Paint a kitchen and dining room for $1,500 in just a week
A front entry stairway (walls only) for $800 in less than 20 hours
Slight wallpaper repair and some light painting for an investment company for $1,800 for less than 40 hours worth of work (and even then they thought we didn't charge enough)
Paint a dental office for $1,500 in only a week's time
Paint the interior of a two-car garage for $1801.00 in just 36 hours
Would you like to make hot money like this and be your own boss?
Are you tired of losing money on your projects or worrying about if you did the estimate right?
Knowing how to bid paint jobs like a professional is the ultimate knowledge you need for your painting business to fly.
In fact, NOT knowing how to bid paint jobs correctly is the #1 reason why new painting business owners don't walk around with a big smile on their face and their head held high.

My name is Lee Cusano, I have over 24 years experience running my own successful painting company. Now days, if I can't get the money I want from a job, I walk away clean.
I don't mess around if there is no money in the project I'm bidding on. Funny thing is though, I still get most of my jobs. I have a 98% success rate at estimating my paint jobs and walking away with a juicy down payment.
I guess when you know what you are doing, love your work and have plenty of red-hot referrals you just can't go wrong. Am I bragging. Yeah! It's true and you need to hear it if you want to succeed.
My "Bid Like A Pro estimating system" can put you in the driver's seat of a professional painting contractor. One who hires painters to do the work for him so he can own the business and it not own him!
So if you don't really like to paint, you can use my estimating system to let others make you rich! You will have everything at your disposal. You will be able to go in and estimate with confidence, collect a red-hot instant cash down payment and look forward to being able to relax and enjoy your work or get your painters hopping for you.
Once you have my system, you will be un-employable for the rest of your life. No one will be able to match the income you make because you will be an expert at estimating and running your own painting business.
Many people dream of owning their own profitable business, but few do. Why? simply because they are afraid to step out and be free. They have no plan. They just don't know if they could stay busy and they cannot see the income potential. What these people fail to realize is the money and freedom they are losing by not stepping out on faith.
If You Want a Successful Painting Business You Need to Realize that it's Actually "Two" Vital Steps Needed for Success:
Step 1 – Knowing How to Bid
Step 2 – Knowing how to Get All the Customers You Need for the Instant Cash Job$ Anytime You Want Them
You see, anyone can get a painting job by bidding low, but that's no fun. Plus your customers will show no loyalty or respect to you down the road. They will throw you to the wolves at Christmas time.
The real contractor hunts the juicy jobs to which there is no end. Leave the low paying jobs for some do-gooder that fell of the welcome-wagon. If you want to get lots of jobs whenever you need them and make top dollar then do yourself a favor and order my CD now.
A professional painter's #1 secret for being successful and prosperous is their bidding knowledge and their ability to get lot's of customers any time they need them. This is the foundation of their success that puts money in their bank accounts like clockwork.
Discovering the right estimating or bidding techniques (which can take YEARS of costly trial and error) is too high a price to pay for success. Someone else can surf the learning curve — I'll take the shortcut any day!
My time-proven, blueprint for success will help you make MORE MONEY with LESS EFFORT right away!
This bidding system software is already working for big time contractors all over the world; It's been helping them grow outrageously profitable painting businesses for years. Now it's your turn to discover the secrets of estimating and bidding like a pro!
You will discover how to get at least 90% of the paint jobs you bid.
The Bid Like a Pro Estimating CD-ROM will allow you to conduct a winning profitable painting business from now on.
You will have automatic confidence that your estimates are correct, profitable and absolutely reasonable.
This CD-ROM will allow you to get the most profitable jobs and walk away from those that aren't.
You will have THE KNOWLEDGE to guarantee that your painting business will be a rock-solid and that you will never have to work for an employer ever again.
One of My Recent Painting Manual Customers Just e-Mailed Me and Said He Made $41/hr on the Last Job He Just Did. And He Said it Was Only 3 or 4 Miles From His Home!
I am giving you THE SECRET to total commercial and residential Painting Bidding Success. This CD reveals my complete, TIME-PROVEN estimating formula. You will be able to start profiting from soon as you receive it in the mail.
This information is worth at least $5,000. I would gladly sell it for that but I'm not ready for an advanced, all out, follow-up, mail order campaign complete with telemarketing. Plus I'm not selling you a franchise, just a painters reference guide — It WILL put your painting business profits on steroids though!
Now you can reduce your stress, sleep better, laugh more and play harder. My CD-ROM is guaranteed to give you the added self-confidence you need to land the good paying jobs!
Here's What is Included in the Fully-Illustrated, Estimating & Advertising Software:
Section 1 – Estimating Paint Jobs — Commercial & Residential (The 3 general methods for estimating)
Section 2 – Interior Estimating Examples (walls and ceilings, high work, doors, windows, kitchen cabinets, all type of woodwork . . .)
Section 3 – Exterior Estimating Examples (decks, porches, siding, windows, entry ways, garage doors . . .)
Section 4 – Sure-Fire Ways to Advertise Your Business and Get Dynamic Results. Both free and low-cost quick-start advertising methods . . .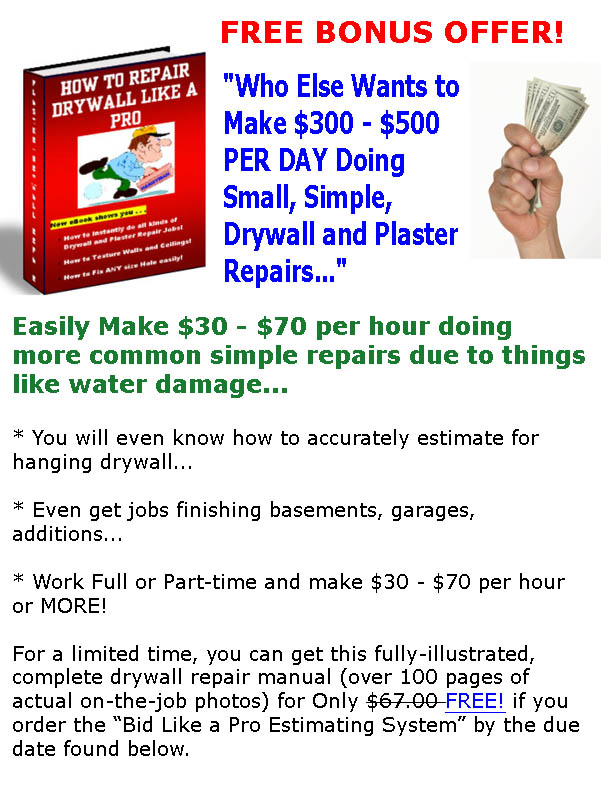 Limited Time Special Offer

– Get

"Bid Like A Pro"

for Only $179.00 $109.95. PLUS, Get These 7 Bonuses Below to Go Along With it:
BONUS #1: Sample Estimating Work Sheets, Contract Forms, etc.
BONUS #2: Ready-To-Go, Sample Advertising that WORKS
BONUS #3: Free life-time support for you and your business. If you need help at any time, all you have to do is e-mail me and I will quickly respond with answers to all your questions. I want your testimonial as a successful painting business owner, so I am naturally interested in helping you.
BONUS #4: I'll show you the 5 easy steps on how to start getting referrals to the best cash-paying jobs where it's possible to make as much as a $1,000/Day. FACT: you'll want my juicy "how to" painting experience for this one – so you can GITTER DONE!
Hardly anyone is aware of this opportunity and it NEVER runs dry!
BONUS #5: I will even give you over 180 professional painting tips complete with on-the-job color photos! This is worth $109.95 alone, but it's yours free for ordering within the next 2 days.
and of course…
BONUS #6: The fully-illustrated, "How To repair Drywall Like a Pro" manual!
BONUS #7: Here's RED-HOT Cash For Painters
Many new painters make the mistake of thinking they can get into apartment painting or painting for real estate agents to make money. The truth is, that neither one of these sources pays well. As a matter of fact, both hire cheap painters for next to nothing.
After years of experience, I can tell you where the big money is in painting real estate – I'm talking $45 – $50 per hour and MORE. This extra bonus for knowing how to hunt the best paying jobs comes automatically when you order "Bid Like a Pro" within the next 10 days.
You will be doing basically the same type of painting work but for way better money and from those that pay maximum professional profits – and they have plenty of work for you all year long!
It will Cost You Money NOT to Get These Manuals!
This product is a Tax-Deductible investment in YOUR future!
I sincerely want you to succeed. Why? Simple. I need your testimonial to convince others that what I say is truth and that they too can succeed.
This is an easy-to-follow manual that is fully-illustrated and fully-guaranteed!
It's possible to make money instantly the self-same day even!
Finally get ahead in life and start having some fun!
The Bid Like A Pro Estimating System is tax-deductible!
You Now Have Two Choices:
Plan A.) Take the long and winding road around the lake of painting business success …
OR . . .
Plan B.) TAKE THE FAST ROUTE NOW by speedboat and zoom across the water to where the big money awaits you? It's that simple!
Your wife will love you more. Your kids will love you more. Even your dog will be impressed. After all, who wants to lose sleep worrying about eating jobs when you could be eating steak?
Decide right now to make a wise investment for you and your business – Get paid the good money you deserve for your skills.
Get a "YES" to over 90% of the estimates you do simply because you will have the confidence needed to succeed.
Have extra money and free time to take your family out for fun weekends!
Gain the PRIDE and SATISFACTION that goes along with owning a successful painting business.
This information can drastically improve your painting business overnight — if you can't afford $109.95 for the best painting tool that you'll ever buy (will pay for itself many, many times over) you really can't afford to be in business.
How much money are you losing every time you do an estimate?
Grab your copy of "The Bid Like A Pro Estimating System" right now and feel the excitement of knowing that your painting business future is secure!
This is your opportunity to have the success you dreamed of when you first decided to start your painting business.
If you are a serious painter this is the best investment tool you will have ever bought for your business.
This one tool alone can make you thousand$ and thousand$ of extra dollars over the course of your painting career.
Secure Order Form
YES!
Please RUSH me "The Bid Like A Pro Estimating & Advertising System" so I can make more money in my painting business. Since I am ordering right away, I understand I will also receive all 6 FREE bonuses as shown above along with my order including unlimited free life-time consultation by e-mail.
I also understand that my credit card will be charged a one-time fee of $97 or $109.95.
New! Now you can get everything that's on the CD-ROM (including bonuses) in an

Instant Download for Only $179.00 $97.00!
ORDER NOW USING PayPal's SECURE SERVER!
Available on CD-ROM for Only $179.00! $109.95
(RUSHED to your door by First Class Mail)
Option:2 Uneasy about ordering online? You can also order by mail and get it on CD-ROM for Only $109.95. Just send cash, check or money order and include your complete mailing address (and even e-mail address for shipping confirmation).
Send Cash, Check or Money Order to:
Lee's Painting Service – Bids
Box 661, Grand Bay, AL 36541
〉〉 Click Here For Handy Printable Order Form 〈〈

e-mail: Click Here * Telephone: (251) 285-7504
HURRY! – I'm planning to raise my price to $179.00 any day now!

P.S. If you don't know how to estimate properly why show up at someone's house or business? Bid Like a Pro gives you the know-how and the confidence you need to make real money!